Meconium Staining Definition
Meconium refers to the first stool that a baby passes out. It is made up of ingested materials that are being taken in from the entire moment that the baby stays and growing in the uterus until delivery and these are the intestinal epithelial cells, amniotic fluid, lanugo, bile, water and mucus.
The unique characteristic of meconium unlike the later type of feces they can have, is that it appears sticky like tar, it is viscous, and is taking a very dark olive green in color, and the smell is almost odorless.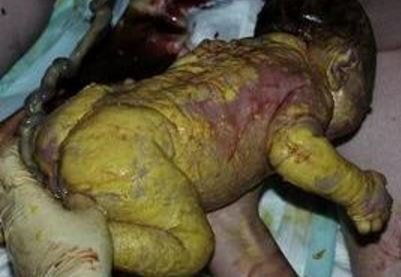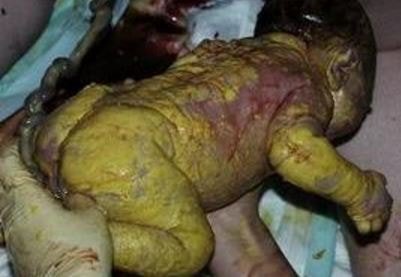 Image 1 – Baby with meconium staining
Meconium color may also change when it is being mixed with amniotic fluid and it will take the different shades of green, yellow or brownish in color. Normally, it as to be passed a few days after the baby is delivered, and it has to be progressing into its yellowish color, like that of digested milk.
Meconium is usually found in a newborn baby's bowel even at the time after birth, although it can also have the chance to be expelled and mixed with the amniotic fluid just before the time of birth, or during the process of labor and delivery and it is called as the amniotic liquor.
This mixture can vary from the so-called staining cases into its heavy staining, where it can be considered as a significant finding when the color becomes dark green or black, and taking a thick, tenacious appearance upon assessment.
Meconium liquor or meconium stained liquor is the stained amniotic fluid that most members of the health team can recognize as a clinical symptom of fetal distress. Meconium staining can place a newborn baby at risk for a condition known as the meconium aspiration syndrome.
As such, this meconium has to be suctioned and aspirated from the nose and mouth of the baby right after the delivery in instances where there are signs of respiratory distress so that the risk for meconium aspiration syndrome can be minimized to happen.
Importance
Meconium staining is that condition where meconium gets deposited on the placenta, the skin, the mucosa and other fetal surfaces, which can indicate a sign of fetal distress that has to be addressed. The passage of meconium that takes place in the utero is due to the peristaltic activity of the bowel and the anal sphincter relaxation.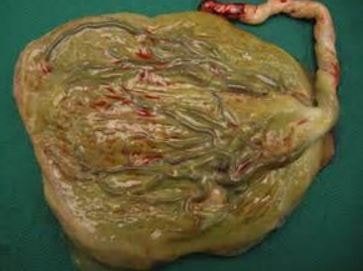 Image 2 – Picture of placenta i.e. meconium stained
As the components of meconium spread into the cord and placenta, it may end up with hypoperfusion or with vasoconstriction. The problem that meconium staining can possibly increase some fetal risks can increase in level, depending on the length of fetal exposure, and also the potential risk to manifest meconium aspiration syndrome by the fetus.
Etiology
Meconium-stained amniotic fluid have been noted to complicate the delivery process and these are associated with the existence of adverse pregnancy outcomes such as the presence of fetal distress, birth by cesarean section and the increasing rates of labor dystocia.
Risk factors include the following:
Maternal hypertension
Preeclampsia
Placental insufficiency
Smoking
Abuse of cocaine
Risky age of pregnancy
The occurrence of meconium stained amniotic fluid is given clinical significance by attending physicians and pediatricians for the reason that it can lead to birth asphyxia, meconium aspiration syndrome, an increase in the admission to the neonatal intensive care units and the possibility of increasing the number of cesarean route of deliveries.
Management
Intrapartum period:
Continuous electronic fetal monitoring
Resuscitation unit and trained staff readily available
Delivery of healthy neonate:
No suctioning needed when APGAR score is greater than 5, which means that the baby is in good condition
Observation of signs of fetal distress during the first and second hour of birth
Delivery of sick neonate:
Suctioning of the airways starts once shoulder is delivered
Delivery of oxygen/ventilatory support when necessary
Prophylactic antibiotics are administered
Prognosis
It has been found out that severe cases of meconium aspiration among babies can also be fatal, however; death rates have greatly decreased with proper and timely suctioning upon delivery and the reduction of cases of post term births cases.
References:
http://patient.info/doctor/meconium-stained-liquor
http://kidshealth.org/parent/medical/lungs/meconium.html
http://emedicine.medscape.com/article/974110-overview
Alkan S, Ozer EA, Ilhan O, et al (2014 Apr 9). Surfactant treatment for neonatal respiratory disorders other than respiratory distress syndrome. J Matern Fetal Neonatal Med.
Mundhra R, Agarwal M (2013 Dec). Fetal outcome in meconium stained deliveries. J Clin Diagn Res. 7(12): 2874-6.
Vain NE, Szyld EG, Prudent LM, Wiswell TE, Aguilar AM, Vivas NI (2004 Aug 14-20). Oropharyngeal and nasopharyngeal suctioning of meconium-stained neonates before delivery of their shoulders: multicentre, randomised controlled trial. Lancet. 364(9434):597-602.