What is anti eyebrow piercing?
Ear and nose piercing is common since ages which gradually became a fashion trend. Now a day, people pierce different parts of body to make a style statement.
Piercing is a micro needling procedure and the traditional believe behind piercing is it enhance affirmative spiritual effect. Piercing gives some aesthetic look which attracts youngsters and makes a popular trend among them. Anti eyebrow piercings is the innovative style in modern century.
The youngsters prefer to highlight this trend as teardrop piercing as it is done just below the eye and above the cheek bone. Anti eyebrow piercing enhances the facial attraction and enhances the look and appearance.

Procedure and Aftercare
Anti-eyebrow piercing is similar with other eye piercings as it is also a type of surface piercing, done just below the extreme corner of the lower eye lashes and upper position of the bone of the cheek. Perfect anti-eyebrow piercing does not have any contact with facial bone or muscles.
Piercing is mostly conducted only on facial skin. Anti-eyebrow piercing may be done in vertically or horizontally according to the choice of the person. Exact placement is very important for anti eyebrow piercing.
An experienced piercer firstly mark the area which should be below the eye for anti-eyebrow piercing then clean the marked area with alcohol swab to sterilize the area. Then clamp the skin and insert a sterilized empty needle diagonally and gently push the jewellery into the piercing.
Piercing is one type of injury, which need at least 6-8 weeks to complete healing of the wound. During this period, it is essential to obey the instruction given by the body piercer. Proper cleaning and hygiene should be maintained to augment the healing.
Regular swabbing with saline solution helps to reduce the inflammation. For cleaning purpose take a cotton ball and dip it in warm water and then squeezed extra water from cotton and the wiped across the wound.
Addition of sea salt in warm water gives extra benefits. Facial region is always exposed in atmospheric pollutions, sea salt contains calcium which helps clean the skin pores and reduce the chances of development of infection due to accumulation of dirt or germs. Twice a day cleaning with sea salt and warm water is effective for prevention of infection.
Hot compression is another way to prevent infection for anti eyebrow piercing.
Any fluid secretion or blood ooze, pain or itching at the site of anti eyebrow piercing are the indication of infection. Consult with doctor, they may prescribe antibiotic to treat the infection.
For long term feasibility choice of jewellery is also important, for anti-eyebrow piercing custom bent surface bars are perfect option. Other options for piercing are curved barbell or L shaped bars. Among them surface bars are more convenient and most piercer recommended surface bars for any type of surface piercing.
Do not take away jewellery at the initial days, it will be painful to insert again.
Aspirin group of medicine is not recommended after piercing as it may stimulate bleeding.
Evade to rotate the jewellery it may cause sore at the site
Do not put makeup item for a short vial in facial skin.
Cost
The cost differs from studio to studio and it also depends on the price of the jewellery used for piercing. Approximate cost is around $40-$70.
Complications
The primary complication with anti eyebrow piercing is the development of infection. The usual symptoms are inflammation, redness, pain and some time discharges blood or pus from the piercing site. The immediate medical consultation is required to check the infection otherwise it causes severe conditions.
There is a high possibility of jewellery rejection followed by migration of jewellery.
Development of itching or darkness of skin causes scars formation, for that condition it is advisable to immediate remove the piercing bars.
Facial nerve or muscles may be damaged with improper technique. It is always recommend to follow standard clamp and pierce method or with the newer dermal punch and taper method.
Scary
Do not become scary about the following condition
After piercing, development of redness is common at the site of piercing and may stay for initial two to three days.
Rejection
Piercings involves insertion of foreign objects inside the body and our physiological system is not use it. Rejection is very common problem with anti-eye brow piercing; the usual symptom is formation of skin fistula and scar development and can be noticeable with that jewellery through the skin. Other symptoms are similar like development of infection such as itching, irritation, warmth etc.
Risks
Anti eyebrow piercing is done near the eye so there is always a chance of optic nerve damage which will affect the vision. Other associated common risk are migration, it occurs if the insertion technique is not followed properly or jewellery selection is not correctly done it may be too thin or too heavy. In such condition the piercing may shifts from its original location.
Pictures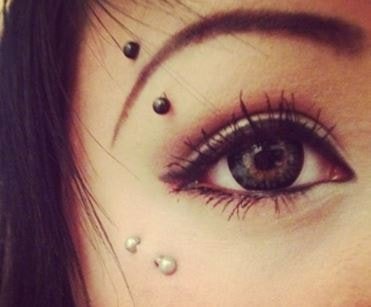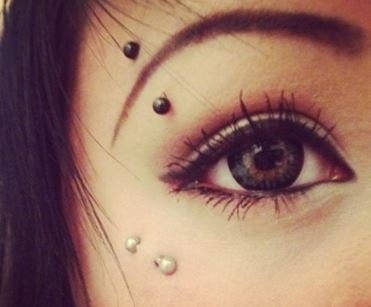 References
Anti eyebrow piercing – risks, what to avoid, jewelry, aftercare, healing at http://www.skin-artists.com/anti-eyebrow-piercing-healing.htm
Anti-Eyebrow Piercing, How to do anti-eyebrow piercing, pain, cost at http://bodypiercingmag.com/anti-eyebrow-piercing.html
Eyebrow and Anti-Eyebrow Piercings – Aftercare, Risks, and Dealing with Pain and Infections at http://greatliving.hubpages.com/hub/Eyebrow-and-Anti-Eyebrow-Piercings-Aftercare-Risks-and-Dealing-with-Pain-and-Infections
http://wiki.bme.com/index.php?title=Anti-eyebrow_Piercing