What is Cradle Cap?
Cradle cap (dermatitis seborrhoica seum eczema seborrhoicum) represents chronic hyperproliferation of epidermis most commonly present on scalp or face. It is most common in infants and adolescents. Seborrheic dermatitis is a multifactorial disease and microorganisms such as Malassezia species and Pityrosporum ovale play an important role in its pathogenesis. Dermatitis seborrhoica affects approximately 1-5 % of the population worldwide.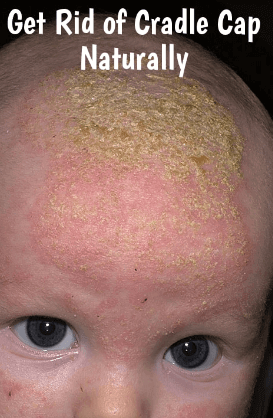 Malassezia Microscopic Finding
Skin colonization by Malassezia furfur begins soon after birth and the peak presence of the yeasts occurs in late adolescence and early adult life. It coincides with increasing activity of sebaceous glands and concentration of lipid in the skin. (1)
Malassezia globosa and Malassezia restricta are able to catabolise lipid molecules contained in sebum. The products are free fatty acids and tryglycerides. It has been as well noted the increase in number of natural killer cells (NK1+) and CD16+ cells.
Causes
The exact pathogenetic mechanism of dermatitis seborrhoica is not yet fully understood, although it is associated with numerous genetic, environmental and health factors. It is a consequence of synergistic effect of Malassezia microorganisms and sebaceous lipids, seborrhea, immune impairments, neurogenic distress and emotional impairment.
It has been found that a lipophilic yeast fungus Pityrosporum ovale has a major role in the onset of dermatitis seborrhoica. It is normally found on the skin as a member of resident flora, especially on the seborrheic regions as of the face and torso.
The main role of the sebaceous glands secretion is significant because seborhheic dermatitis is characterized with the periods of activity of the sebaceous glands. Pityrosporum ovale has immunogenic and chemotactic properties.
Signs & Symptoms
The disorder usually occurs in the third and fourth decade of life. It is more common in male population than in women. In childhood, seborrheic dermatitis is not so frequent .
It does not occur often, except for the first two months of postnatal period when sebum is secreted under the influence of the remaining mother's androgen (dermatitis seborrhoicum infantum).
Predilection sites are the scalp, region of the eyebrows, forehead, nasolabial folds, external ear canal, the retro grooves, presternal and interscapular region.
In these zones, it can be seen vaguely limited, pale erythema with yellowish-white patches. They are characterized with squamo greasy appearance, and can be formed as clearly limited oval and / or eritematous plaques.
In the region of capillitium, squamous or pityriasis area are clearly limited to the forehead (corona seborrhoica). In case there are dry regions with descvamation, It is called pityriasis sicca capitis that represents a non-inflammatory variant of seborrheic dermatitis.
Certain changes may be present in the folds, axillary, submammary or in the folds of the stomach in obese patients. In these areas there is a relatively limited erythema with clear glossy surface and no clinical signs of squamous characteristics.
Blepharitis seborrhoica indicates erythematous edges of the eyelids with the presence of yellowish or squamo crusotous changes.
Dermatitis seborrhoica is often accompanied by pruritus, especially in the scalp. The changes may become secondary impetiginioused (coccica dermatitis and seborrhoica).
Dermatitis seborrhoica has a chronic and recurrent stream. During the summer, when solar radiationis intense, changes usually improve or reverse.
Seborrheic dermatitis is a chronic condition characterised by time intervals of exacerbation and remission.
Diagnosis
The clinical diagnosis of seborrhoic dermatitis is based upon a thorough clinical investigation and personal medical history. In more severe forms, a skin biopsy and fungal culture may be necessary. Histopathological findings of seborrheic dermatitis include hyperkeratosis, acanthosis, local patches of spongiosis and parakeratosis.
Differential Diagnosis
The most important is to distinguish seborrhoica dermatitis from psoriasis vulgaris, especially when the changes are localized only in the scalp. Differential diagnosis can best be done if there are typical changes for one or another disease in the rest of the predilection places.
Treatment
Nowadays, treatment modalities include antifungal regimens, antiinflammatory agents (steroids, calineurin inhibitors and lithium salts), keratolytic agents and phototherapy.In case of chronic use of the local corticosteroids, there may arise certain complications such as skin atrophy, telangiectasia, rosacea and acne. Itraconazole is effective in the treatment of Malassezia species.
In local therapy, the use of imidazole products ( such as ketoconazole in the form of creams for skin and hair shampoo) may be efficient as well as hydrocortisone 1% or 2.5% twice per day. Skin should not be treated with fluoridated corticosteroid preparations.
For hair washing it is recommended to use shampoos with zinc pyrithione, selenium sulfide or tar derivatives. For capillitium in a shorter period, it is advised to use gels or lotions with fluorinated corticosteroid (flucionolon acetonide).It can be applied and combined therapy antimycotics – corticosteroids. If there are signs of secondary infections, it is advisable to administer topical and / or systemic antibiotic therapies.(2)

Climbazole
Climbazole (1-4-chlorphenoxy-1-1H-imidazonyl-3,3-dimethylbutan-2-one) is an imidazole antifungal agent that is effective in the treatment of human fungal skin infections. It inhibits antifungal activity inhibiting ergosterol that is a major component of fungal cytoplasmic membranes.
Piroctone olamine
Piroctone olamine (1-hydroxy-4-methyl-6(2,4,4-trimethylpentyl)-2(1H)-pyridone, 2-aminoethanol salt) is a derivate of pyridine. It is a constituent of many cosmetic products with antifungal effect. Piroctone olamine penetrates the cell membrane and creates complexes with iron ions, thus inhibiting energy metabolism in mitochondrias.(3)
References
Del Rosso JQ.Adult seborrheic dermatitis: a status report on practical topical management.J Clin Aesthet Dermatol. 2011 May;4(5):32-8.
Fatsini-Blanch V. RF-Itraconazole Pulse Therapy for Seborrheic Dermatitis: A Treatment Approach to Consider.Actas Dermosifiliogr. 2017 Mar 2.
Hae Jeong Youn. Efficacy and Safety of Cream Containing Climbazole/Piroctone Olamine for Facial Seborrheic Dermatitis: A Single-Center, Open-Label Split-Face Clinical Study. Ann Dermatol. 2016 Dec; 28(6): 733–739.