What is Sapho Syndrome?
A variety of osteoarticular and dermatological manifestations develop in a combination is termed as Sapho Syndrome. The term ' Sapho' represents various musculoskeletal disorders including
Among the above-mentioned symptoms, pustulosis and acne are the main skin disorder, whereas osteitis is the most major skeletal disorder in Sapho Syndrome. In 1987, French rheumatologist Chamot first described Sapho Syndrome1,3.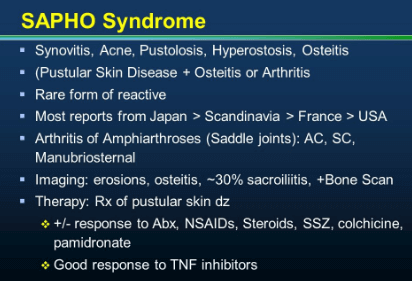 Prevalence
SAPHO Syndrome is a rare disease and the exact prevalence is unknown due to lack of evidence. Different previous findings showed individuals in between the age of 30 to 50 years are mostly affected with SAPHO syndrome.
Researchers found that symptoms related to SAPHO can develop in the female at less than 30 years of age and the first incidence of SAPHO Syndrome develops in a female patient. But recent researchers found that SAPHO Syndrome can occur at any age, as evidence showed that child with 15 months had SAPHO Syndrome2.
Symptoms
SaphO Syndrome is a combination of swelling of the joints (Synovitis); conglobata or fulminans (acne), pus-containing blisters (Pustulosis), bony substances enhancement (Hyperostosis), inflammatory bones (Osteitis) and all these symptoms occurs in the same patient.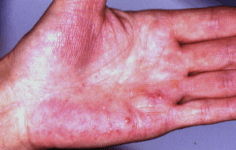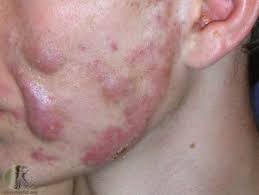 Osteoarticular manifestations
All the Osteoarticular manifestations, which include hyperostosis, osteitis, arthropathy, enthesopathy, and synovitis are provided pain, inflammation, tenderness on the affected bones or joints and fever.
The excessive bone growth due to hyperostosis, resultant of this leads to extra bone creation and assembly of joints.
Cortex and the medullary cavity of the bone get inflamed due to osteitis.
The adjacent of the articular structures in the osteitis resultant of this leads to synovitis
Axial and peripheral joints are involved in arthritis due to SAPHO syndrome attack.
Ligament ossification and bone bridging across joints develop due to enthesopathy.
Skin lesions
Following are typical skin lesions associated with SAPHO Syndrome
Pustulosis rather it is termed as palmoplantar pustular because it often occurs on the palms and soles
Severe acne, which can apparent as acne fulminans, acne conglobata, or hidradenitis suppurativa.
Pyoderma gangrenosum, psoriasis and Sweet's syndrome and Sneddon–Wilkinson disease are rare skin condition can develop in SAPHO syndrome2,3,4.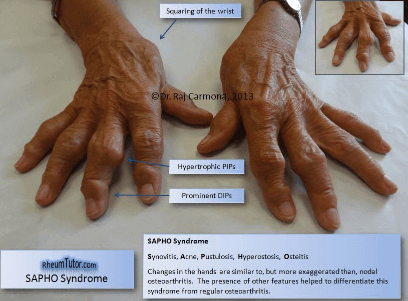 Diagnosis
Laboratory Test
There is no specific laboratory test available for SAPHO Syndrome, but blood test report generally provides the information associated with general inflammatory and infectious conditions like raise of erythrocyte sedimentation rate (ESR), C-reactive protein (CRP), C3 and C4 (components of compliments).
One research report showed an elevated level of IgA, with a normal level of IgM and IgG. However, further large-scale detail study require establishing this marker.
Histo-pathological Finding
In the early stage, histopathological finding shows polymorphonuclear leukocytes infiltrate; in the intermediate stage, the infiltrate showed mononuclear cells and in an advanced stage, enlargement of bone trabeculae and sclerotic. In addition, marrow fibrosis and osteocytes numbers are increased.
The sample collected from the affected skin for biopsy showed neutrophilic pseudo-abscesses.
Diagnostic Criteria
According to the Kahn, the included diagnostic criteria are
Persistent recurrence of multifocal sterile and axial osteomyelitis may or may not be associated with dermatosis;
Severe or moderate arthritis in association with pustulous psoriasis, palmoplantar pustulosis, and severe acne;
Clear osteitis associated with severe acne, palmoplantar pustulosis or pustulous psoriasis1,2.
Treatment
Treatment of Sapho is challenging because of its multi-variant clinical presentations. Involvement of skin component provides the disappointing treatment outcome. Following are some therapeutic methods applied to treat Sapho syndrome.
Nonsteroidal anti-inflammatory drugs (NSAIDs) is considered as a first-line therapy.
Antimicrobial treatment gives beneficial results in positive biopsy culture report. But the treatment does not effective in other cases. The included antimicrobials are azithromycin, clindamycin, doxycycline and sulfamethoxazole/trimethoprim. Apart from antimicrobial effect, other beneficial effects of azithromycin include anti-inflammatory and immunomodulatory effects. In addition, azithromycin in combination with calcitonin can provide a better result in the osteotropic condition.
Bisphosphonates, colchicine, and corticosteroids are also useful to treat Sapho syndrome.
Methotrexate, sulfasalazine and anti-TNFα therapy can also act as disease-modifying agents.
Bisphosphonates can inhibit bone resorption and turnover. This drug also suppresses the synthesis of different inflammatory mediators, including IL-1, IL-6, and TNFα. Bisphosphonates cannot provide any effect on skin lesions.
Osteitis lesions can be treated by injecting local corticosteroid injections.
Oral corticosteroids medications are effective to treat both skeletal and skin manifestations.
Topical corticosteroids, retinoids, PUVA (psoralen plus ultraviolet A) and photochemotherapy are prescribed for treating dermatological conditions.
If adequate dose of NSAID therapy for persisting period (more than 4 weeks) does not provide effective result, then disease-modifying agents are required to include in the treatment plan;
Anti-TNFα therapy often provides an improvement of the clinical presentation of the Sapho syndrome; however, this improvement is not permanent. The Anti-TNFα therapy includes spondyloarthropathies, infliximab (in low dose).
Patients who do not show the effective result in the case of Anti-TNFα therapy, Adalimumab is prescribed for them.
Anakinra is acting as an IL-1 receptor antagonist and considered as a most effective treatment for SAPHO patients, even those who does not benefit by taking Anti-TNFα therapy.
Microvascular flaps are used in autologous bone transplantation method.
Physiotherapy is applied in the osteoarticular manifestations.
If medications unable to provide effective result then surgery intervention need to apply. Surgical interventions like resection of the medial clavicle or the sternoclavicular joint are several corrective measures for skeletal system deformity, functional abnormality, and associated pain.
decortications, curettage and extensive extirpation of the cortical jaw are minor surgical procedures applied in the case of mandibular involvement1,2.
Prognosis
Very few patients have self -limiting Sapho syndrome. In most of the cases relapsing of the condition is common. In some cases, rheumatic manifestations may improve after a long period2.
References
Ch Matzaroglou, D Velissaris, A Karageorgos, M Marangos, E Panagiotopoulos, M Karanikolas. SAPHO Syndrome Diagnosis and Treatment: Report of Five Cases and Review of the Literature. Open Orthop J. 2009; 3: 100–106. Published online 2009 Nov 5. doi: 10.2174/1874325000903010100. https://www.ncbi.nlm.nih.gov/pmc/articles/PMC2790148/
Iva Rukavina. SAPHO syndrome: a review. J Child Orthop. 2015 Feb; 9(1): 19–27. Published online 2015 Jan 14. doi: 10.1007/s11832-014-0627-7. Online https://www.ncbi.nlm.nih.gov/pmc/articles/PMC4340847/
Dr. Sarah Hill, Dermatology Registrar. SAPHO syndrome. DermNet New Zealand. http://www.dermnetnz.org/topics/sapho-syndrome/
William C. Shiel. SAPHO Syndrome. MedicineNet.com. http://www.medicinenet.com/sapho_syndrome/article.htm